HydrO2Facial will give you instant and visible results that you can see and feel after each treatment.
This patented technology follows a six-step treatment process – Detox, Cleanse and Exfoliation, Brightening, Extraction, Hydration and finally Rejuvenation.
Dead skin cells and impurities are removed and the skin is hydrated with antioxidants and peptides.
Packages:
Express Facial – 30 min
3 different types of hydro-peel
Hyaluronic mask with ultrasound
Facial – 60 min
Hydro-peel – 3 different types of hydro-peel
Hyaluronic mask with ultrasound
Deep Cleanse/Exfoliation
Skin Lifting
Cryofacial – Hot/Cold plate
Oxygen Gun
Plus Facial – 90 min
Hydro-peel – 3 different types of hydro-peel
Hyaluronic mask with ultrasound
Deep Cleanse/Exfoliation
Skin Lifting
Cryofacial – Hot/Cold plate
Oxygen Gun
Skin tightening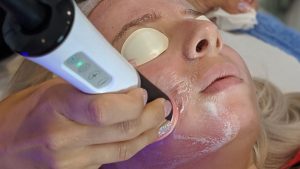 Back to Treatments